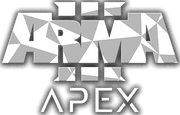 ArmA 3's Apex DLC will add new weapons, vehicles, characters, a co-op campaign and the South Pacific island of Tanoa for the game. It was released on July 11th, 2016.
New terrain: Tanoa; a 100 km² South Pacific island archipelago.
New Syndikat faction, NATO & CSAT special forces, and Pacific expeditionary units.
New characters and appearances, including Tanoan and Chinese.
New co-op campaign: "Apex Protocol"; players take on the role of NATO CTRG operators in a campaign that supports 1-4 players.
13 new weapons, new uniforms, headgear, backpacks, NVGs, and weapon optics.
A selection of existing Arma 3 weapons and vehicles repainted in a South Pacific camo pattern.
2 new End Game multiplayer scenarios and an End Game singleplayer Showcase scenario on Tanoa.
New radio protocols: French, French-English, and Chinese.
New environment assets and props for content creators.
A Tanoa Zeus Game Master scenario.
5 new Steam Achievements.
Arma 3 Apex official soundtrack.
Ad blocker interference detected!
Wikia is a free-to-use site that makes money from advertising. We have a modified experience for viewers using ad blockers

Wikia is not accessible if you've made further modifications. Remove the custom ad blocker rule(s) and the page will load as expected.