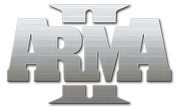 ArmA 2 is an open world tactical shooter developed by Bohemia Interactive.
Independent
Edit
Expansions
Edit
A standalone expansion titled ArmA 2: Operation Arrowhead was released on June 29, 2010. The story focuses in the desert region of Takistan in summer 2012, three years after the Chernarus conflict. Coalition forces led by the US Army are sent in to overthrow the dictatorial government and restore peace.
A month later, two DLCs for Operation Arrowhead were released:
British Armed Forces - Coalition forces experience a growth in guerrilla insurgency and British Armed Forces are sent in.
Private Military Company - After the conflict, private military contractors are sent in to investigate about Takistan's abandoned nuclear project.

In August 2012, a third DLC; Army of the Czech Republic, was released.
Ad blocker interference detected!
Wikia is a free-to-use site that makes money from advertising. We have a modified experience for viewers using ad blockers

Wikia is not accessible if you've made further modifications. Remove the custom ad blocker rule(s) and the page will load as expected.