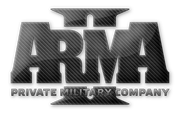 ArmA 2: Private Military Company is a downloadable expansion for ArmA 2: Operation Arrowhead. It introduces a new faction, the Private Military Contractors (PMC), represented by ION, Inc., a new campaign, Operation Black Gauntlet, a new map, Proving Grounds, several single missions, vehicles and weapons.
New Contents
Edit
Operation Black Gauntlet
Edit
The single-player campaign in the expansion continues the campaign Operation Crimson Lance from another expansion, British Armed Forces. The player plays Brian Frost, who has retired from the British Army to become a Private Contractor after being persuaded by his friend Tanny Radcliffe.
In 2013, the United Nations dispatched several investigators to Takistan to investigate the existence of the country's weapons of mass destruction. ION, Inc. has won a contract to protect these investigators in the midst of the raging civil war in the country. Frost is one of the several men assigned for this contract.
Proving Grounds
Edit
The Proving Grounds is a Takistani weapons test site used before the US invasion. It is a small grassland map with a dried up river and a massive nuclear detonation crater being the main feature. Several missions in the campaign as well as in single missions are set in this map.
Vehicles and Weapons
Edit
The expansion introduces three new vehicles, the Ka-60 Kasatka helicopter, the Ka-137 reconnaissance UAV and a special, armed SUV for the PMC faction, nicknamed the Black Betty. New versions of the XM8 rifle is also introduced, along with the brand-new AA-12 shotgun.
Factions
Edit
Independent
Edit
See also
Edit
Ad blocker interference detected!
Wikia is a free-to-use site that makes money from advertising. We have a modified experience for viewers using ad blockers

Wikia is not accessible if you've made further modifications. Remove the custom ad blocker rule(s) and the page will load as expected.