Kamysh
Faction
CSAT
Type
Infantry Fighting Vehicle
Seats
11 seats:

1× Driver
1× Gunner
1× Commander
8× Passengers

Item capacity
Max: 3000 kg

12× Weapons
128× Magazines
12× Backpacks

Top speed
91 km/h
Fuel capacity
1885 L
Primary armament
Main:
Secondary armament
Secondary:

Coaxial:

Defensive:

Variants
ZSU-39 Tigris
Games
The BTR-K Kamysh is a tracked Infantry Fighting Vehicle used by CSAT forces in ArmA 3.
The Kamysh is tied with the ZSU-39 Tigris as being one of the fastest tracked vehicles in ArmA 3, with a top speed of 91 km/h.
Overview
Edit
Roles:

Troop transport
Fire support
«

The infantry fighting vehicle BTR-K Kamysh and its anti-aircraft cousin ZSU-39 Tigris share the same vehicle platform. Developed by Russia with a pinch of undeniable inspiration from Israeli IFVs, they serve in the OPFOR army as a prime example of a leveling of the technology field with the West. The Kamysh is equipped with a CTWS turret fitted with a 30mm cannon, coaxial machinegun and 2 guided AT missiles, making the vehicle significant in the infantry support role. The Tigris is fitted with a 35mm autocannon and 4 Titan AA missiles.

Field Manual

»
The BTR-K is a highly manoeuvrable infantry fighting vehicle designed to be a troop transport that can engage armoured ground and low-flying aerial targets while stationary, and as an armoured reconnaissance vehicle.
It is fitted with a 30 mm autocannon that is capable of firing both high-explosive and armour-piercing rounds at ranges of up to 1,500 metres. In addition to its primary cannon and 6.5 mm coaxial machine gun, the BTR-K has two anti-tank guided missiles that are capable of defeating or at least disabling heavily armoured vehicles.
The standard loadout of the BTR-K gives it 140 rounds of multi-purpose (MP-T) explosive rounds and 60 armor-piercing fin-stabilized discarding sabot (APFSDS-T) shells for the main gun. The coaxial machine gun comes pre-loaded with a single linked belt of 1,000 rounds of 6.5 mm ammunition, while the adjacent launcher pod has 2 infrared-guided Titan anti-tank missiles stored in it.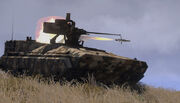 Unlike its tracked NATO counterpart, the BTR-K is well equipped to be able to support its dismounts with direct fire and destroy light-medium armoured vehicles, though care should still be taken as it is vulnerable to the 40 mm shells of its wheeled NATO counterpart and other heavier weaponry. The turret in particular is completely unarmoured and can be easily disabled by either sustained small arms fire, grenades, or other small explosives.
The BTR-K has a seating capacity of eleven personnel including the crew. The crew includes the driver, gunner and commander.
Camouflage
Edit
Hex: Arid Hexacam camouflage pattern. Useful for forested, grass plains, and desert environments.
Green Hex: Tropical Hexacam pattern camouflage. This is used in heavily forested and tropic environments.
The Kamysh's chassis is loosely based on the Belarusian-made "BM-2T Stalker" but is combined with a Samson RCWS-30 turret (which is also used by the real-world "Pandur II" IFV that is represented in-game as the Gorgon).
The overall design and armament loadout of the Kamysh is also similar to that of the "BMPT Terminator".
The BTR acronym (Russian: Bronetransporter) is a designation used for wheeled Russian armoured personnel carriers.

This is a misnomer however, as the Kamysh is clearly a tracked IFV. Tracked vehicles of this category are typically designated as BMP (Russian: Boyevaya Mashina Pekhoty) instead, therefore a more appropriate designation for the Kamysh would actually be BMP-K Kamysh.
External links
Edit
See also
Edit
Variants Edit
Vehicles of comparable role and configuration Edit