Kamysh
Faction
CSAT
Type
Infantry Fighting Vehicle
Seats
11 seats:

1× Driver
1× Gunner
1× Commander
8× Passengers

Item capacity
Max: 3000 mass

12× Weapons
128× Magazines
12× Backpacks

Top speed
91 km/h
Fuel capacity
45 L
Primary armament
Main:
Secondary armament
Secondary:

Coaxial:

Defensive:

Variants
ZSU-39 Tigris
Games
The BTR-K Kamysh is a tracked Infantry Fighting Vehicle used by CSAT forces in ArmA 3.
The Kamysh is tied with the ZSU-39 Tigris as being one of the fastest tracked vehicles in ArmA 3, with a top speed of 91 km/h.
Overview
Roles:

Troop transport
Fire support
«

The infantry fighting vehicle BTR-K Kamysh and its anti-aircraft cousin ZSU-39 Tigris share the same vehicle platform. Developed by Russia with a pinch of undeniable inspiration from Israeli IFVs, they serve in the OPFOR army as a prime example of a leveling of the technology field with the West. The Kamysh is equipped with a CTWS turret fitted with a 30mm cannon, coaxial machinegun and 2 guided AT missiles, making the vehicle significant in the infantry support role. The Tigris is fitted with a 35mm autocannon and 4 Titan AA missiles.

Field Manual

»
Design
The BTR-K is a highly manoeuvrable infantry fighting vehicle designed to be a troop transport that can engage armoured ground and low-flying aerial targets while stationary, and as an armoured reconnaissance vehicle.
Armament
It is fitted with a 30 mm autocannon that is capable of firing both high-explosive and armour-piercing rounds at ranges of up to 1,500 metres. In addition to its primary cannon and 7.62 mm coaxial machine gun, the BTR-K has anti-tank guided missiles that are capable of defeating or at least disabling heavily armoured vehicles.
The standard loadout of the BTR-K gives it 280 rounds of multi-purpose (MP-T) explosive rounds and 120 armor-piercing fin-stabilized discarding sabot (APFSDS-T) shells for the main gun. Each munition type feeds from either 140- or 60-round "magazines" respectively (MP/APFSDS). The coaxial MMG comes pre-loaded with a single 200-round belt and has a further 7 belts in reserve.
The adjacent launcher pod on the other hand, has 2 infrared-guided Titan anti-tank missiles stored in it, and can toggle between direct fire and top-attack flight modes. The launcher pod can be reloaded once, which gives the BTR-K a total of 4 missiles.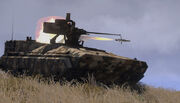 Features
Unlike its tracked NATO counterpart, the BTR-K is well equipped to be able to support its dismounts with direct fire and destroy light-medium armoured vehicles, though care should still be taken as it is vulnerable to the 40 mm shells of its wheeled NATO counterpart and other heavier weaponry.
Drawbacks
The BTR-K's turret is completely unarmoured and can be easily disabled by either sustained small arms fire, grenades, or other small explosives.
Crew Capacity
The BTR-K has a seating capacity of eleven personnel including the crew. The crew includes the driver, gunner and commander.
Camouflage
Hex: Arid Hexacam camouflage pattern. Useful for forested, grass plains, and desert environments. Changes any applied camo nets to use a two-tone desert camouflage pattern.
Green Hex: Tropical Hexacam pattern camouflage. This is used in heavily forested and tropic environments. Attached camo netting will use a two-tone woodland camouflage pattern
Components
Slat Cage (Hull): Attaches slat cages around the entire hull; excluding the turret but including the rear passenger compartment hatch. Slat cages will protect the BTR-K from non-AP munitions but can be destroyed after multiple hits.
Camo Net (Hull): Drapes the entire hull with camouflage netting (the turret is not covered). Partially conceals covered sections from thermal sensors.
Trivia
The Kamysh's chassis is loosely based on the Belarusian-made "BM-2T Stalker" but is combined with a Samson RCWS-30 turret (which is also used by the real-world "Pandur II" IFV that is represented in-game as the Gorgon).
The overall design and armament loadout of the Kamysh is also similar to that of the "BMPT Terminator".
The BTR acronym (Russian: Bronetransporter) is a designation used for wheeled Russian armoured personnel carriers.

This is a misnomer however, as the Kamysh is clearly a tracked IFV. Tracked vehicles of this category are typically designated as BMP (Russian: Boyevaya Mashina Pekhoty) instead, therefore a more appropriate designation for the Kamysh would actually be BMP-K Kamysh.
Gallery
External links
See also
Variants
Vehicles of comparable role and configuration