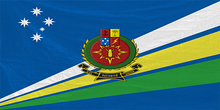 The Gendarmerie is Tanoa's law enforcement agency. It was added to ArmA 3 with the release of the Apex DLC.
Overview
Edit
«

The Gendarmerie faction represents a local law enforcement agency on Tanoa.

Official ArmA 3 Apex site description

»
Background
Edit
Specifically formed to curtail illegal activities such as drugs and arms smuggling throughout the Horizon Islands, they are essentially a militarised police force that operates out of Tanoa.
In the wake of a series of natural disasters that have struck the island nation, the Gendarmerie have recently been working alongside NATO peacekeepers deployed to Tanoa as part of the "Safe Horizon" exercises to root out a new threat called the Syndikat.
The Gendarmerie would find itself in a escalating series of conflicts with Syndikat, following a major earthquake that struck many of the South Pacific island chains.
They are a criminal organisation that have been mounting an increasing number of raids on government infrastructure and villages throughout Tanoa, and against the Gendarmerie itself. As Syndikat rapidly grew in size over time, it would prove to be too much for the now-outgunned police force to handle. Prior to the beginning of the campaign, the Gendarmerie have already lost control over a significant number of territories throughout Tanoa.
Events of Apex Protocol (2035)
Edit
SPOILER ALERT
This section contains spoilers from ArmA 3 Apex's 'Apex Protocol' campaign.
The Gendarmerie are a minor faction in the Apex Protocol campaign.
Following a series of raids against Syndikat weapons caches, CTRG manage to locate and free a captive officer being held by the insurgents. The surviving officer informs the team of the whereabouts of a nearby tower that Syndikat have re-purposed into an outpost.
Post-Apex Protocol
Edit
With the death of their leader and senior lieutenants at the hands of CTRG, the Gendarmerie presumably dismantle the remnants of Syndikat successfully.
In the epilogue's news report, Gendarmerie units can be seen providing security at the conference in Georgetown as the president of the Horizon Islands, Benjamin Hope, gives a speech denouncing CSAT for its involvement in the 'Apex Protocol' plans to destabilise Tanoa through its covert support for Syndikat.
Equipment
Edit
Responsible for provding both domestic and regional security, the Gendarmerie mostly use a mixture of small arms imported from abroad and vehicles suited for the local terrain.
The primary weapon of choice for most officers is the Protector, a compact submachine gun chambered for the 9×21 mm cartridge. In contrast to the 7.62×39 mm-chambered firearms used by the Syndikat, they are somewhat outgunned as a result.
For ease of travel around Tanoa's variable terrain, officers utilise Offroads that have a dark blue, high-visibility paint scheme. In addition, they occasionally utilise modified Vans when deploying into urban areas or for when tactical assaults are required.
External links
Edit
See also
Edit