The International Development & Aid Project is a Non-Government Organisation (NGO) that specialises in responding to humanitarian disasters. It was added to ArmA 3 with the release of the Laws of War DLC.
Overview
Edit
«

This new faction, IDAP, is a non-governmental organization which is specialized in rapidly responding to humanitarian disasters. The faction is composed of new IDAP-branded clothing and gear, including outfits for specialized roles such as Explosive Ordnance Disposal specialists, as well as many other tools, supplies, and other items.

Official ArmA 3 Laws of War site description

»
TBA
Background
Edit
TBA
TBA
Events of Beyond Hope (2026)
Edit
TBA
Events of Remnants of War (2034-2035)
Edit
SPOILER ALERT
This section contains spoilers from ArmA 3's Laws of War DLC 'Remnants of War' campaign.
TBA
Equipment
Edit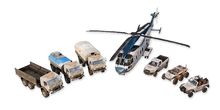 External links
Edit
See also
Edit
Ad blocker interference detected!
Wikia is a free-to-use site that makes money from advertising. We have a modified experience for viewers using ad blockers

Wikia is not accessible if you've made further modifications. Remove the custom ad blocker rule(s) and the page will load as expected.