| | |
| --- | --- |
| | NOTE: This page is currently a Work-In-Progress (WIP). Information contained in this article is either incomplete or missing, and is subject to review. |
The International Development & Aid Project is a Non-Government Organisation (NGO) that specialises in responding to humanitarian disasters. It was added to ArmA 3 with the release of the Laws of War DLC.
Overview
«

This new faction, IDAP, is a non-governmental organization which is specialized in rapidly responding to humanitarian disasters. The faction is composed of new IDAP-branded clothing and gear, including outfits for specialized roles such as Explosive Ordnance Disposal specialists, as well as many other tools, supplies, and other items.

Official ArmA 3 Laws of War site description

»
TBA
Background
IDAP is a humanitarian aid organisation which also give talks and live VR demonstrations to military factions
History
TBA
Events of Beyond Hope (2026)
IDAP was sent to Altis during the civil war and had a very large presence on the island as seen by the size of the IDAP convoy in "Beyond hope".
Events of Remnants of War (2034-2035)
IDAP had a base in oreokastro as and aid center and employed the help of NATO and the AAF in getting airdrops when a splinter group of FIA began roaming the area. when the FIA began to gain support in the town and became a Rebel bastion, IDAP pulled out. after the surrender of the AAF IDAP was called back to oreokastro to disarm the large amount of mines the FIA had placed to stop an AAF assault. IDAP was assisted by NATO in dealing with locked doors and removing the barricade of cars that Alexis made, NATO also came to retrieve their dead from the church where they had been killed in "the colonel".
SPOILER ALERT
This section contains spoilers from ArmA 3's Laws of War DLC 'Remnants of War' campaign.
TBA
Equipment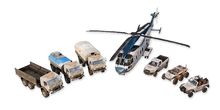 Gallery
External links
See also