«

The M249 Squad Automatic Weapon is a fully-automatic, gas-operated, magazine or belt-fed individual weapon. It is the standard US Army light machine gun based on the Belgian FN Minimi, featuring a 200 round plastic magazine box. The bipod can be collapsed and the weapon can be fired from the hands. The M249 SAW provides the squad with the accurate and sustained fire required to suppress and destroy enemy targets.

Armoury Description

»
M249 SAW 5.56 mm
Faction
USMC
Type
Light Machine Gun / SAW
Caliber
5.56×45 mm NATO
Magazine
capacity
200
Variants
M249 Para
Games
The M249 SAW is a 5.56 mm light machine gun that is primarily used by the USMC in ArmA 2.
Overview
Edit
The M249 is a gas operated light machine gun with an open bolt design that is chambered to fire the 5.56×45 mm NATO round.
It is primarily designed to load from 200 round belts stored in plastic boxes, though it can also (optionally) load 100 belts stored in cloth bags as well. The M249 can attain a fire rate of up to 857 rounds per minute, with a muzzle velocity of 915 m/s. The M249 features a (non-functional) integrated bipod but does not support being fitted with any optical sights or side rail accessories, nor can it be suppressed.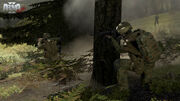 The M249 served as the standard issue SAW of USMC automatic riflemen operating in Chernarus. Arguably the best light machine gun in-game, the M249 boasts the ability to load 200 round belt boxes which is double the amount of all its counterparts (XM8/MG36) while retaining good accuracy and the ability to use standard 5.56 mm rifle magazines.
Its only real drawbacks are its lack of magnified optics and usage of 5.56 mm ammunition, which has a significant damage drop-off the further the round travels. These two factors combined limits the M249's effective range to just under 800 metres as opposed to 7.62 mm medium machine guns like the M240, which can not only reach targets that are further out but are better at retaining the energy of their rounds over long distances.
Variants
Edit
M249 Para Edit
M249 Para 5.56 mm
Faction
- U.S. Army
- ACR
Type
Light Machine Gun / SAW
Caliber
5.56×45 mm NATO
Magazine
capacity
100
Variants
M249 SAW
Games
The M249 Para is a 5.56 mm light machine gun sub-variant of the baseline M249 SAW that is exclusively used by both U.S. Army and Czech military forces in ArmA 2. It was added with the release of the Operation Arrowhead expansion pack.
Unlike its parent weapon, the M249 Para has a few variants that are fitted with either the M145 telescopic sight or the TWS thermal scope. All variants also feature laser pointers for use in night-time operations. Though the M249 Para can use the same 200-round plastic boxes, it mainly feeds from 100-round cloth pouches instead.
Other than the inclusion of the new optics however, the changes from the regular M249 SAW in ArmA 2 to Operation Arrowhead are mostly cosmetic, with the M249 Para simply fitted with more rails from which it can mount the sights and accessories.
The in-game M249 variants used by U.S. Army infantrymen feature "TangoDown" vertical foregrips attached to their underbarrel rails. However, they are merely cosmetic and do not affect the M249's recoil or handling in any way.
External links
Edit
See also
Edit
Weapons of comparable role and configuration Edit
Weapons of ArmA 2
Handguns

CZ 75 9 mm

•

G17 9 mm

• M1911 .45 • M9 9 mm • Makarov 9 mm •

Revolver .45

Submachine guns

CZ Scorpion Evo 3 A1 9 mm

• MP5 9 mm •

PDW 9 mm

• PP-19 Bizon 9 mm •

Sa-61 Scorpion 7.65 mm

Shotguns
M1014 • Saiga 12K •

AA-12

Assault rifles
AK-107 5.45 mm (AK-107 GP-25) • AK-74 5.45 mm (AK-74 GP-25*, AKS-74*, AKS-74U*) • AKM 7.62 mm • AKS 7.62 mm* •

CZ 805 BREN A1 5.56 mm

(

CZ 805 A1 G1

,

CZ 805 BREN A2

,

CZ 805 B1 G1

) •

FN FAL 7.62 mm

• G36 series* (G36A*, G36C*, G36K*) •

L85A2 5.56 mm

(

L85A2 UGL

) • M16A2 5.56 mm* (M16A2 M203*) • M16A4 5.56 mm (M16A4 M203) • M4A1 5.56 mm (M4A1 M203,

M4A3

,

M4A3 M203

) •

SCAR series

(

Mk16

,

Mk16 CQC

,

Mk16 EGLM

,

Mk17

,

Mk17 EGLM

) •

Sa-58 7.62 mm

•

XM8 series

(

XM8

,

XM8 M320

,

XM8 Compact

)
Designated marksmen rifles
DMR 7.62 mm •

L86A2 LSW 5.56 mm

•

M14 7.62 mm

• Mk12 SPR 5.56 mm •

Mk17 Sniper 7.62 mm

• VSS Vintorez 9 mm •

XM8 Sharpshooter 5.56 mm

Sniper rifles

AS50 12.7 mm

• CZ 550 9.3 mm •

CZ 750 S1 M1 .308

• KSVK 12.7 mm* •

Lee-Enfield .303

•

LRR .338

• M107 .50* •

M110 7.62 mm

• M24 7.62 mm* (M40A3) • SVD Dragunov 7.62 mm*
Squad automatic weapons

L110A1 5.56 mm

• M249 SAW 5.56 mm* • MG36 5.56 mm* • RPK-74 5.45 mm •

XM8 Automatic Rifle 5.56 mm

Machine guns

L7A2 GPMG 7.62 mm

• Mk 48 Mod 0 7.62 mm* • M240 7.62 mm* •

M60E4 7.62 mm

• PKP 7.62 mm • PKM 7.62 mm •

UK-59 7.62 mm

Grenade launchers

M32

•

M79

•

Mk13

Launchers
Metis AT-13 • FGM-148 Javelin • FIM-92F Stinger • Igla 9K38 • M136 •

M47 Dragon

•

MAAWS

•

NLAW

• RPG-7V • RPG-18 • Strela-2 9K32 • SMAW
Static
AGS-30 • AT-9K115 Metis-M • D-30 • DShKM • Igla AA Pod • KORD •

L111A1

•

L134A1

• M119A1 • M2 • M252 • MK 19 • Podnos 2B14 •

RBS-70

• SPG-9 • Stinger • TOW • ZU-23
(Parenthesis) denote variants. | * indicates partial DLC dependency. |

Operation Arrowhead

|

British Armed Forces

|

Private Military Company

|

Army of the Czech Republic