«

The Mk14 is a classic battle rifle used in service since the sixties. It is a selective fire automatic rifle that fires the 7.62x51 mm NATO ammunition. Mk14 was replaced by advanced modern variants like Mk18 ABR, but thanks to its low cost, simple construction, and reliability, it is still used in several countries.

Field Manual

»
Mk14 7.62 mm
Faction
FIA
Type
Marksman Rifle
Caliber
7.62×51 mm NATO
Magazine
capacity
20
Variants
None
Games
The Mk14 is a 7.62 mm battle rifle used by FIA sharpshooters in ArmA 3. It was added with the release of the Marksmen DLC.
Overview
The Mk14 is a selective-fire, gas operated battle rifle that is chambered to fire the 7.62×51 mm NATO round.
It loads from 20 round box magazines and can attain a fire rate of up to 705 rounds per minute, with a muzzle velocity of 850 m/s. The Mk14 only accepts optical sights on its top rail but can also fit bipods onto a small rail located beneath the forward end of the barrel, while also being able to mount attachments onto its muzzle.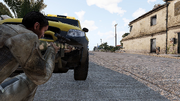 Despite being described as an outdated weapon, its performance is almost identical to its contemporary counterpart, the Mk18 ABR. However, the Mk14 is not only lighter in comparison, but shares the same high damage output befitting its status as a medium power marksman rifle and is fairly accurate out to a distance of 600 metres.
The only main downside to the Mk14 is its higher-than-average recoil. Whereas the Mk18 ABR has at least somewhat manageable recoil during both semi/fully automatic fire, the Mk14's recoil is more unstable and is very difficult to handle. This limits the operator to firing in semi-automatic only even at close range, lest they expend ammunition fruitlessly on missed shots.
Additionally, unlike the Mk18 ABR the Mk14 also lacks a siderail and is thus unable to attach a flashlight or a laser pointer.
Camouflage
Camo: Spraypaint camouflage designed to mimic foliage and forest brush.
Olive: Simple olive green paint scheme.
Trivia
The Mk14 is based on the real-life "M14" battle rifle that is still in service with the armed forces of many countries worldwide.
Prior to the DLC's release, a teaser render of the Mk14 showed that it was originally meant to be an AAF weapon. Upon release, it was changed to become an FIA-exclusive weapon instead.

Though the exact reason behind this change is not known, one possible explanation with the exchange is that the Mk18 ABR already serves as the AAF's DMR while the FIA lacked a proper equivalent at the time.
Another possible reason is that the Mk14 would be a rather anachronistic firearm for the 2030's era that ArmA 3 is set in. Given that its real-life counterpart would be in plentiful supply for arms smugglers to obtain by this time period, it is plausible that these factors could have contributed to the faction swap.
Gallery
External links
See also
Weapons of comparable role and configuration