«

Starter pistol is a revolver commonly used to start competitive races. Only the sound of the shot is used as the starting signal. This pistol uses flares, and a cloud of smoke can be seen when the gun goes off.

Field Manual

»
Starter Pistol 10 mm
Faction
Civilians
Type
Signal Gun
Caliber
10 mm
Magazine
capacity
6
Variants
None
Games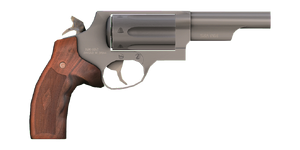 The Starter Pistol is a 10 mm handgun used by Altian racing marshals in ArmA 3. It was added with the release of the Karts DLC.
Overview
Edit
The Starter Pistol is a double-action revolver chambered to fire 10 mm signal flare slugs.
It loads from 6 round cylinders and has both a fire rate and muzzle velocity of 240 rounds per minute/240 m/s. The Starter Pistol does not support being fitted with any accessories or muzzle attachments.
Designed solely as a non-combat weapon, the Starter Pistol can launch either red or green (harmless) short-range signal flares into the air to mark the start of racing matches. Or alternately, it can also serve as a way of marking locations for friendly forces to see as an improvised flare gun in emergencies.
The Starter Pistol appears to be based on the real-world "Judge" revolver manufactured by Taurus International Manufacturing Incorporated (also known as Taurus USA).

Unlike its in-game counterpart however, the real Judge is chambered to fire a variety of (lethal) revolver and shotshell rounds ranging from to .45 Colt to .410 bore rounds.
External links
Edit
See also
Edit