T-90
Faction
Russian Armed Forces
Type
Main Battle Tank
Seats
3 seats:

1× Driver
1× Gunner
1× Commander

Item capacity
Max:

10× Weapons
100× Magazines

Top speed
65 km/h
Fuel capacity
1000 L
Primary armament
Main:

1× 2A46M 125 mm
5× 9M119M Refleks ATGM

Secondary armament
Secondary:

Coaxial:

Defensive:

Variants
None
Games
The T-90 is a Main Battle Tank that is exclusively used by the Russian Armed Forces in ArmA 2.
Overview
Edit
«
The GPO Uralvagonzavod T-90 is a Russian main battle tank derived from the T-72 and is the most modern tank in the Russian Ground Forces.
The T-90's main armament is the 2A46M 125 mm smoothbore anti-tank gun. It also carries the PKT - 7.62 mm coaxial machine gun and the Kord - 12.7 mm anti-aircraft machine gun.

Armoury Description

»
The T-90 is a further development of the T-72 Main Battle Tank. It is the latest generation model in the T-series of Russian tanks and represents an increase in firepower, mobility and protection.
Armament
It is armed with a smoothbore 125 mm cannon that can fire a mixture of armour-piercing and high-explosive shells. The T-90 has a coaxial 7.62 mm medium machine gun that can be used against soft targets in lieu of the main gun, as well as an externally-fitted 12.7 mm heavy machine gun on the top of the turret that can be used by the tank's commander to engage low-flying aircraft.
The standard loadout of the T-90 gives it 23 rounds of armor-piercing fin-stabilized discarding sabot (APFSDS) and 22 rounds of high-explosive (HE) shells for the main gun. The coaxial PKT comes loaded with one belt box of 250 rounds of 7.62 mm ammunition, and has a further seven spare boxes. Lastly, the externally mounted KORD comes pre-loaded with a 150 round belt box of 12.7 mm ammunition, with another three boxes left in reserve.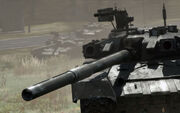 Features
Unlike the more ubiquitous T-72, the T-90 is solely used by the Russian Armed Forces. It is one of the most powerful ground vehicles in-game, and unique among the other tanks in its class for its ability to fire anti-tank missiles from its main cannon.
Notable Traits
Its sole direct competitor is the American M1A1 tank. While not as well-armoured as the Abrams, the T-90's ability to fire gun-launched SACLOS ATGMs gives it superior range and the ability to simultaneously fire two weapons at the same time (one missile and cannon round).
Crew Capacity
The T-90 has a seating capacity of three personnel for a crew consisting of the driver, gunner and commander.
External links
Edit
See also
Edit
Vehicles of comparable role and configuration Edit