| | |
| --- | --- |
| | NOTE: The information in this article details content that has yet to be officially released. It is subject to change and may not reflect what is available in the final product. |

ArmA 3's Tanks DLC is an upcoming armoured warfare-themed DLC that will add three new tanks, playable scenarios, and more. It is slated for release in Q1 of 2018.
Overview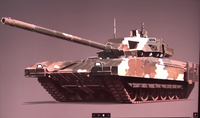 «

Following our well-established DLC model, the Arma 3 Tanks DLC will build on the experience of armored combat in Arma 3 by delivering 3 new armored vehicles, new playable content, and more. The package will be accompanied by a free platform update, which will implement new features and improvements related to tracked and armored vehicles.

Official DLC Description

»
Currently, it has been confirmed that there will be up to three new Main Battle Tanks that will be included with the DLC as premium content. However, information with regards to what factions these tanks would be added to, or what other premium content that could possibly be included with the DLC is unknown at this time.
As with all premium DLC releases (aside from Tac-Ops), Tanks will also be bundled with a free platform update. Amongst these improvements are enhancements to the PhysX simulation for tracked vehicles, an alternate top attack guidance mode for the Titan MPRL Compact and PCML missile launchers, and fully detailed interiors for all existing and premium armoured ground vehicles.
A new armour component system for ground vehicles is also planned which will allow for better damage simulation, as well as fully functional reactive armour modules on vehicles as opposed to being treated as purely cosmetic additions (as they are now).
The ability to customise the appearance of vehicles with equipment such as backpacks, visual/infrared camouflage netting, or destructible slat cages for example, will also be included for use in the Eden editor or Virtual Garage.
Video
Trivia
Though it has yet to be finalised, Tanks is confirmed to be the last official DLC for ArmA 3 that will be developed by the Bohemia Interactive team itself.
External links
See also