ArmA 3's Tanks DLC is an upcoming armoured warfare-themed DLC that will add three new tanks, playable scenarios, and more. It is slated for release in Q1 of 2018.
Overview
Edit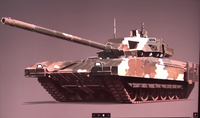 «

Following our well-established DLC model, the Arma 3 Tanks DLC will build on the experience of armored combat in Arma 3 by delivering 3 new armored vehicles, new playable content, and more. The package will be accompanied by a free platform update, which will implement new features and improvements related to tracked and armored vehicles.

Official DLC Description

»
Currently, it has been confirmed that there will be up to three new Main Battle Tanks that will be included with the DLC as premium content. However, information with regards to what factions these tanks would be added to, or what other premium content that could possibly be included with the DLC is unknown at this time.
As with all premium DLC releases (aside from Tac-Ops), Tanks will also be bundled with a free platform update that will; amongst other improvements, enhance the PhysX simulation for tracked vehicles.
Though it has yet to be finalised, Tanks is confirmed to be the last official DLC for ArmA 3 that will be developed by the Bohemia Interactive team itself.
External links
Edit
See also
Edit
Ad blocker interference detected!
Wikia is a free-to-use site that makes money from advertising. We have a modified experience for viewers using ad blockers

Wikia is not accessible if you've made further modifications. Remove the custom ad blocker rule(s) and the page will load as expected.