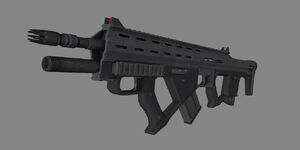 The Type 115 is an assault rifle deployed by CSAT Viper forces in the region of Tanoa.
| | | |
| --- | --- | --- |
| « | The Type 115 is a modern multi weapon. It consists of two separate weapons combined into a single unit: a lower semi auto rifle chambered to fire .50 rounds and an upper automatic/semi auto rifle chambered in 6.5 mm. The gun can be modified with attachments to fulfill various roles in battle. Its versatility turns every soldier into a universal threat against both infantry and armored targets. | » |
Ad blocker interference detected!
Wikia is a free-to-use site that makes money from advertising. We have a modified experience for viewers using ad blockers

Wikia is not accessible if you've made further modifications. Remove the custom ad blocker rule(s) and the page will load as expected.